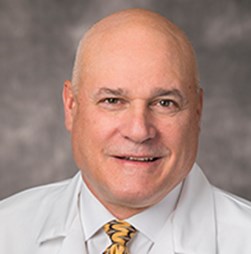 Glen Tinkoff, MD, FACS, FCCM
Glen Tinkoff, MD, FACS, FCCM is currently the System Chief for Trauma and Acute Care Surgery at University Hospitals in Cleveland, Ohio, an 11 hospital regional health care system serving northeast Ohio. Dr. Tinkoff has an appointment as a professor of surgery at the Case Western Reserve University School of Medicine in Cleveland, Ohio.
He received his medical degree from the University of Cincinnati, School of Medicine and completed his general surgery residency at Lankenau Hospital in Philadelphia, Pennsylvania. He completed fellowships in surgical critical care at State University of New York at Stony Brook and trauma research at Lehigh Valley Hospital in Allentown, PA.
After fellowship, he was recruited in 1992 to Christiana Care Health System in Wilmington, Delaware as the trauma medical director of the Level 1 trauma center at Christiana Hospital. He served in this position until he was appointed Vice Chair of Surgery in 2006. He also served as the Delaware Division of Public Health's medical advisor to the State trauma system for 16 years.
Dr. Tinkoff served 18 years on the American College of Surgeons Committee on Trauma during which he served on its region committee as state chair and region chief, executive committee, and chair of the performance improvement and patient safety committee.
He has also served as chair of the injury prevention committees of both EAST and the AAST, and currently chairs the Trauma Prevention Coalition, which represents the major professional trauma organizations through promoting collaborative efforts and developing effective strategies in injury and violence prevention.
For these efforts, Dr. Tinkoff was awarded the National Safety Council's Surgeon's Award for Service to Safety in 2014. He also has numerous peer reviewed publications and invited lectures on clinical issues in acute care surgery, trauma center and systems administration and management, and injury prevention and control.