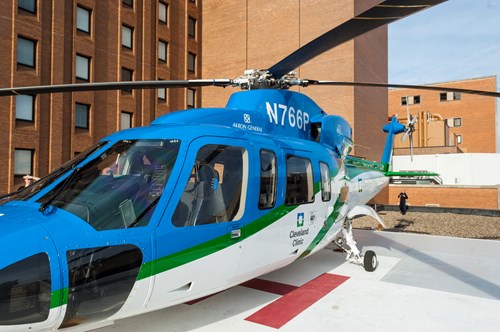 Cleveland Clinic Critical Care Transport
Cleveland Clinic Critical Care Transport prides itself on bringing the most advanced critical care medicine to critically ill and injured patients across the globe. With over 5,300 high acuity patient transports performed annually, our critical care teams are among the most experienced in the world. Utilizing a fleet of fixed wing jets, Sikorsky S-76 C+ helicopters and ground ambulances, our teams are able to deliver Cleveland Clinic care to patients anywhere and at any time.
Our medical teams have extensive experience in critical care medicine and include physicians, acute care nurse practitioners, critical care paramedics, and critical care nurses. Team members undergo rigorous training in the management of highly complex and critically ill and injured patients in the transport environment. We are also one of the few programs with extensive experience in transporting critically ill patients with a variety of cardiac assist devices, including LVADs, intra-aortic balloon pumps and ECMO.
Our pilots are among the best in the industry, with comprehensive training including night vision goggle use, instrument flight regulation certification, and use of instrument approach procedures (IAP). These certifications and others ensure that we are among the safest and most efficient programs in the industry.
Cleveland Clinic Critical Care Transport Teams are strategically located throughout Cuyahoga and Summit counties. Each location is equipped with one of our Sikorsky S-76 C+ helicopters and/or ground ambulance. The Sikorsky S-76 C+ helicopter is among the largest and fastest in civilian use, with cruising speeds of up to 180 mph. The larger interior allows for full access to the patient, and provides the capability to take additional personnel if needed. Fixed wing operations are based out of Burke Lake Front Airport in Cleveland and provide national as well as international capabilities.
The Cleveland Clinic Critical Care Transport Team is committed to providing the highest level of critical care medicine anywhere in the world. No patient too sick, no patient too far. Learn more about our team, or visit our Facebook page.
---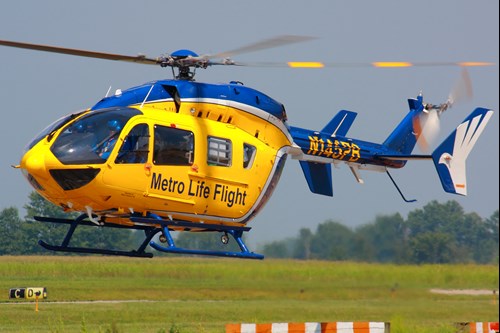 Metro Life Flight
Launched in 1982, Cleveland Metro Life Flight is an internationally recognized critical care transport service based in Northeast Ohio. Accredited by the Commission on Accreditation of Medical Transport Systems (CAMTS) since 1994, Metro Life Flight provides local and international assistance utilizing helicopter, fixed wing and ground assets.
Located at bases in Lorain, Portage and Wayne counties, crews are readily accessible to the communities throughout northern and central Ohio. The fleet of three EC-145 helicopters includes the latest advanced aviation safety features such as a terrain warning system and real-time satellite/radar weather. Pilots are certified in the use of night vision goggles and the performance of instrument only (IFR) operations.
The medical crews consist of critical care physicians, nurse practitioners, nurses and paramedics. Our expert staff provide hundreds of hours of education annually to EMS and hospital teams throughout the region and present regularly at national and international conferences.
Metro Life Flight and its partners within the Northern Ohio Trauma System rely on the Flight Communications Office for arranging transport. Each of the communication specialists is specially trained and NAACS certified to operate the latest, state-of-the-art computer dispatch systems. All communication specialists are either EMTs or EMT-Ps, and provide around-the-clock support for facilitating patient transport requests.
Follow Metro Life Flight on Facebook.
Metro Life Flight's aircraft are operated by Metro Aviation I
---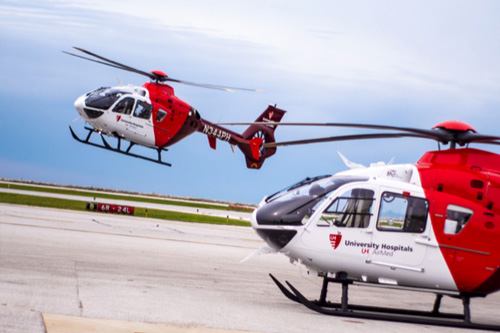 UH AirMed
UH AirMed is the critical care air medical service for University Hospitals of Cleveland, partnered with PHI Air Medical, one of the country's leaders in air medical providers.
UH AirMed, formally known as UH MedEvac, has proudly served the Northeast Ohio area since 1998.
UH AirMed has two helicopter bases, strategically located to quickly provide air medical critical care services for our EMS providers and hospital partners.
UH AirMed 1 (call sign University 1) is located at Geauga County Airport and UH AirMed 2 (call sign University 2) is stationed at Medina Municipal Airport. Both bases stand at the ready 24/7/365.
PHI Air Medical offers the UH AirMed Program two twin engine IFR capable EC135 aircraft that are meticulously maintained and adhere to the most stringent of safety standards
The UH AirMed Program is accredited by CAMTS, the Commission of Air Medical Transport Systems, an organization dedicated to improving patient care and safety by providing a dynamic accreditation process through the development of standards, education, and services.