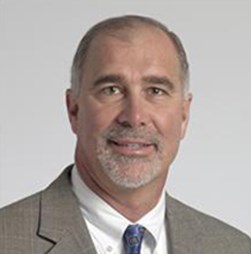 Bradford L. Borden, MD, FACEP
Bradford L. Borden, MD, FACEP, has been the Chairman of the Cleveland Clinic Emergency Services Institute since January 1, 2012. Prior to joining the Cleveland Clinic, Dr. Borden served as CEO of Emergency Care Specialists, Inc., and as Medical Director of the Department of Emergency Medicine at Marymount Hospital for nearly 15 years.
He served as President of the Marymount Hospital Medical Staff from 2007-2009 and also served as President-Elect for a second term through the end of 2011.
In July, 2013, Dr. Borden was appointed Chairman - Professional Staff Affairs. He is a member of the Clinical Enterprise Management Committee, Enterprise Risk Management Steering Committee, Risk Steering Committee and Professional Conduct Committee.
In addition, he is the Chair of the Cleveland Clinic Health System's Emergency Services Steering Committee, and is a member of Cleveland Clinic Medical Operations Committee and the Cleveland Clinic Emergency Management Department.
January, 2015, Dr. Borden became a member of the Northern Ohio Trauma Services Board and CCHS Indemnity Co., Ltd.
Dr. Borden earned his medical degree from the University of Cincinnati and graduated from Ohio Wesleyan University where he was a member of Phi Beta Kappa. He completed his internship and residency training in Emergency Medicine at Mt. Sinai Medical Center in Cleveland, where he served as chief resident.
He is a member of the American College of Emergency Physicians, the Academy of Medicine of Cleveland and Northern Ohio (AMCNO), and served as an active board member of the Healthcare Underwriters Group Mutual of Ohio from 2005 to 2011.