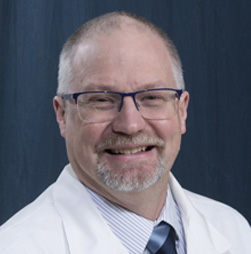 Dr. Jeff Claridge
Jeff Claridge, MD, MS is the Service Line and Division Director of Trauma, Burns, Critical Care and Acute Care Surgery at MetroHealth Medical Center in Cleveland, OH. He is a Professor at Case Western Reserve University School of Medicine and recently appointed as a Vice Chair of Surgery at Metrohealth.
Recently he was honored to be named the inaugural Case Western Reserve University School of Medicine Colonel McNeal Endowed Professor of Trauma Surgery. He is the immediate past state chair of the Committee of Trauma for Ohio, which was a 6 year term and is the immediate Past President for both the Surgical Infection Society (SIS) and the Eastern Association for the Surgery of Trauma (EAST). He has been recently named the Vice Chair of Surgery at Metrohealth Medical Center.
Dr Claridge has served since 2009 as the Trauma Director at Metrohealth Medical Center a Level 1 trauma center and actively practices in trauma, emergency general surgery, critical care, and bariatrics.
Dr. Claridge was the first medical director of the Northern Ohio Trauma System for 8 years and has since served on the board and as Chair of the Board for 2 years.
He went to medical school at the University of Rochester and did his surgical residency at the University of Virginia. Dr. Claridge did his critical care and trauma fellowship at University of Tennessee in Memphis and moved to his current location in Cleveland in 2005. He has continued to be actively involved in NIH, DOD, and industry sponsored studies. He has numerous chapters and over 150 peer reviewed publications. His twitter handle is @ClaridgeJeffrey.