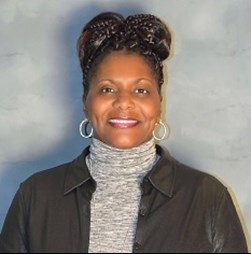 Sharyna Cloud
Mrs. Cloud has a passion for community enhancement, empowerment and education which is evident in her career history. Her experience includes working in the criminal justice and social service arena spanning over 28 years. Mrs. Cloud began her vocation as a Family Worker with the Interchurch Council of Greater Cleveland, supervising juvenile males in a "Day Program".
She has since had the pleasure of serving as a Social Worker for the Salvation Army, a Parole Officer, an Assistant Administrator and the Reentry Specialist for the Adult Parole Authority Cleveland Region under the Ohio Department of Rehabilitation and Corrections and Program Coordinator with the city of Cleveland.
All of which allowed Mrs. Cloud the opportunity to work in and with Cleveland's toughest neighborhoods collaborating tirelessly with many social service and community based organizations to enhance and develop resources and services to meet the needs of previously incarcerated citizens reintegrate back into the community.
With the city of Cleveland, Mrs. Cloud was the initial Program Coordinator of Operation Focus, a violence prevention and intervention initiative which focused on violence perpetrated by groups and gangs in the city of Cleveland. In addition to those duties, Mrs. Cloud served as the liaison for the newly formed Cleveland Community Police Commission under the Consent Degree and Reentry point for the city of Cleveland.
Her successful engagement within the city of Cleveland provided unmatched insight and experience, which evolved her to her current role as the Executive Director of the Cleveland Peacemakers Alliance. A 2nd chance, trauma informed organization that provides prevention and intervention services through street outreach to youth and young adults who are most at risk for being victims and/or perpetrators of gun violence within the city of Cleveland.
Under her leadership, Cleveland Peacemakers Alliance established the "Violence Intervention/Prevention Program" which has embedded Violence Interrupters at both MetroHealth and University Hospital's level one trauma centers and also solidified relationships with local court systems to provide outreach services to individuals on supervised release.
Mrs. Cloud graduated from Cleveland State University College of Urban Affairs with a Master of Public Administration and received a Bachelor of Arts degree from Kent State University, majoring in Criminal Justice and a minor in Psychology. She has a seat on several boards and committees and in her leisure time enjoys landscaping. Mrs. Cloud resides in the Greater Cleveland area, is married and has 4 adult sons.